Cleaning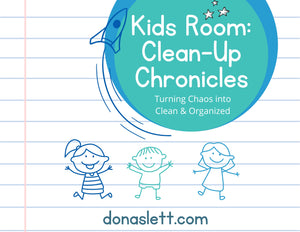 Kids' bedrooms are often a hub of creativity, imagination, and let's face it, messes. Keeping these spaces clean and organized can be a challenge, but with a bit of planning and some helpful strategies, you can transform chaos into order. In this blog post, we'll explore practical tips and step-by-step approaches to effectively clean and organize your kids' bedrooms. We know you don't want to do all the work for them, so we will get them helping too! Don says "The home is the first and finest classroom" 1. Declutter First: Before you even begin cleaning, tackle the clutter. Encourage...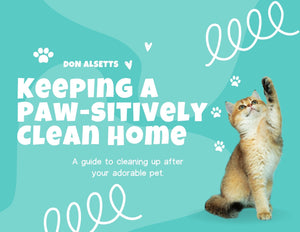 Keeping a Paw-sitively Clean Home: A Comprehensive Guide to Cleaning Up After Your Adorable Pets. We all adore our furry companions, but let's face it: pets can sometimes leave a trail of messes behind them. From muddy paws to shedding fur, pet-related cleaning tasks can be a regular part of pet ownership. But fear not! With some helpful tips and tricks, you can maintain a clean and happy home for both you and your four-legged friends. Here's a comprehensive guide on how to clean up after your adorable pets: #1 Establish a Pet-Friendly Cleaning Routine: Incorporate pet-related cleaning tasks into...
Effortless Toilet Cleaning: Safety Foam Vs. Foam N' Flush. What is the difference?  Is scrubbing the toilet one of your least favorite tasks? Are you tired of searching all over the house for the right tools to get your toilet clean or searching through the cleaning aisle trying to find the one solution that works? At Don Aslettles we have two complete toilet cleaning sets with two unique cleaners that get your toilets to sparkle.  Our two favorite toilet bowl cleaners each have their strengths - let's break each one of them down, and which one you need. Each set...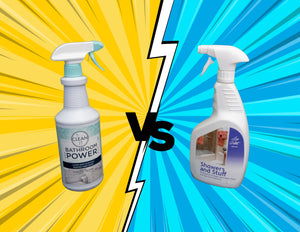 What is the Difference? Showers and Stuff vs. Bathroom Power Cleaning your shower is an essential part of maintaining a sparkling and clean bathroom. But with so many cleaning products available, how do you know which one is better suited for your shower? In this article, we'll break down the differences between Showers and Stuff and Bathroom Power, two popular cleaning solutions, to help you make an informed decision. I have two types of showers that I was able to experiment on, dark tile shower and fiberglass tub/shower combos. Both of these solutions worked great for different reasons. I used the Ultimate Cleaning...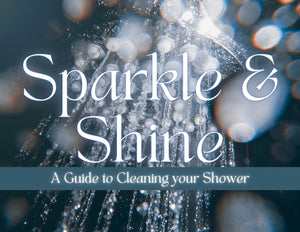 Shine and Sparkle: A Simple Guide to Cleaning Your Shower Keeping your shower clean and hygienic is not only essential for maintaining a healthy home, but it also ensures a refreshing and enjoyable bathing experience. With regular maintenance and a few effective cleaning techniques, you can easily achieve a spotless and sparkling shower. In this blog, we will guide you through some simple steps to make your shower shine! Tip: Daily wipe down of your shower after use will help eliminate the buildup of hard water & soap scum. A thorough cleaning of your shower should be done bi-weekly. If...
---